I'm surprised there hasn't been more talk about this, but did you know: The Charlotte area is in a drought, with dry conditions not seen since 2011.
In some places, it's evident. Just take a look at the water levels on Lake Norman, which are running a few feet below target. (The level was 95.2 Friday, versus a target of 98 for this time of year. See Duke Energy's lake level monitor page here.)  Or ask a farmer or anyone with a garden.
Last week the NC Drought Management Advisory Council issued an advisory that the Charlotte region and areas west and north are in D2 Severe Drought conditions. Other areas nearby are D1 Moderate Drought. In an update Thursday, Aug. 13, the group "strongly urged" local authorities to take steps to manage the drought.
That's just what Charlotte Water has done, by issuing water use advisories over the past couple of weeks.  Charlotte Water (formerly CMUD) is asking us to limit watering and irrigation, turn off fountains, and delay filling pools, among other things. Here's the list:
Irrigate only on Tuesdays and Saturdays between 6pm—6am.
Limit landscape watering to one inch of water per week, including rainfall.
Conserve all water use indoors and outdoors
Refrain from outdoor water use during the day (6am to 6pm) to reduce evaporation losses.
Refrain from filling pools. Only top off swimming pools on Thursday and Sundays, between 6pm and 6am
Discontinue operation of fountains and other ornamental water features that do not sustain aquatic animal life
Do not wash vehicles at home; use a commercial car wash that recycles water instead.
Refrain from residential power washing.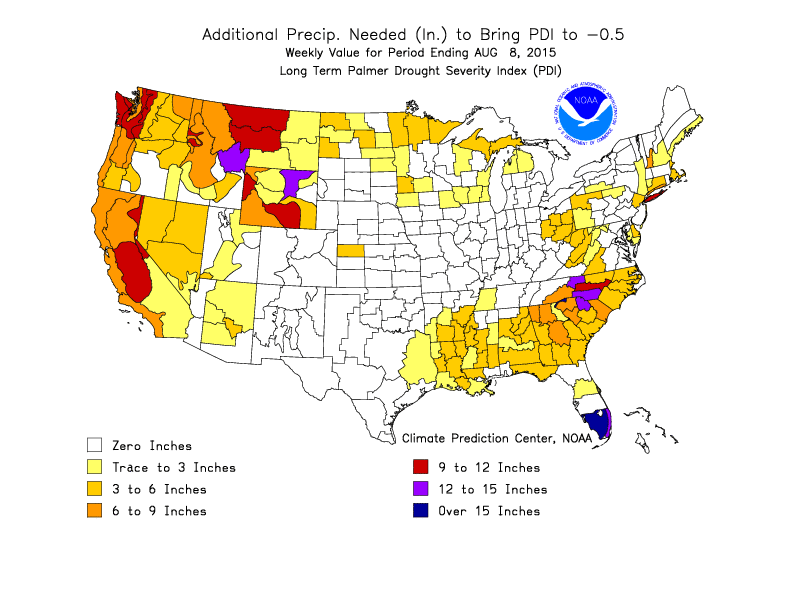 Why limit our water use? Because rainfall so far this year is significantly below average. The National Weather Service says our area needs 12 to 15 inches of rain to alleviate the drought.
Here is how much rain our region would need to end the #drought. #ncwx #scwx #cltwx #gawx pic.twitter.com/uhDveclMa1

— NWS GSP (@NWSGSP) August 13, 2015
"Charlotte Talks" on WFAE-FM in Charlotte, where I work as a producer and announcer, addressed the issue in a program Monday titled "Drought in Charlotte and Mecklenburg County." Charlotte Water's Barry Gullet, who also chairs the Catawba-Wateree Water Management Group, talked about his agency's response. Daniel Overcash over Iredell County, a farmer and the Region 11 Agronomist with the NC Agriculture and Consumer Services, talked about the effect on agriculture. Speakers also included Rebecca Cumbie, of the NC State Climate Office. Listen below or at WFAE.org.